How to Change & Transfer MyCareer Affiliation in NBA 2K23?
Maplestoryaccount
Date: Oct/08/22 10:11:26
Views: 430
Affiliations remain an integral feature of the City experience, but many may notice that the game simply throws you into one of them at random. Sometimes, players don't fit in their team and think of changing their Affiliation. If you're thinking of doing the same, we'll help you change & transfer your MyCareer Affiliation in NBA 2K23.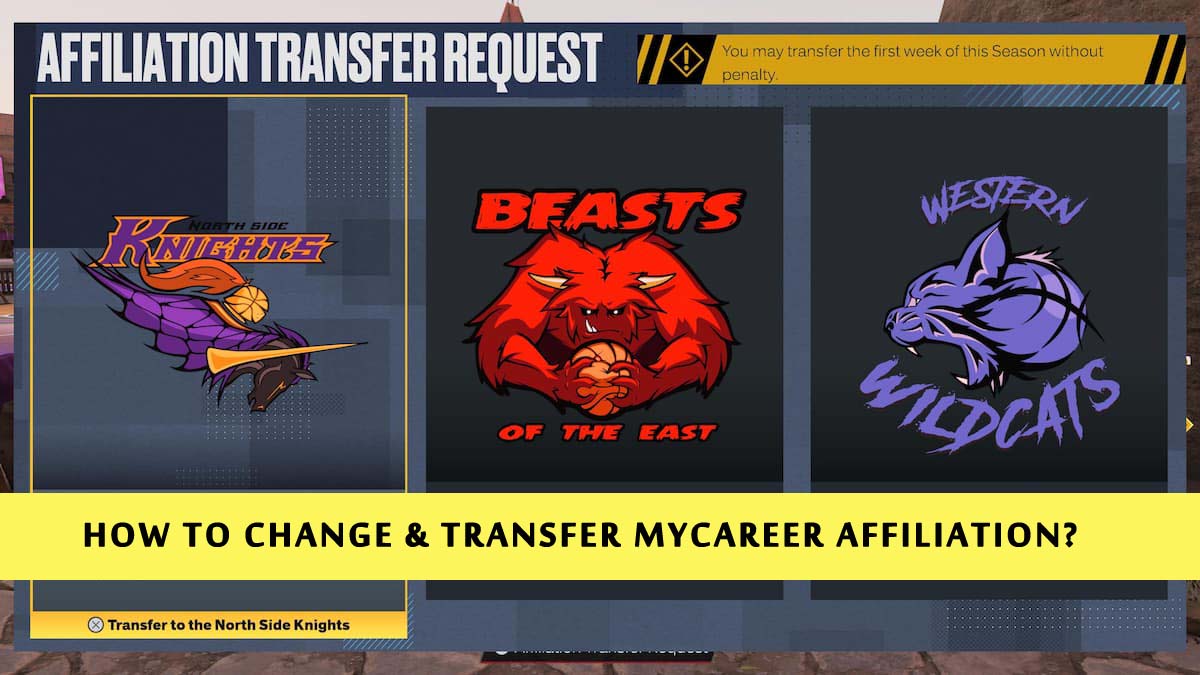 What is MyCareer Affiliation in NBA 2K23?

Affiliations in NBA 2K23 serve as guild-like organizations that athletes can join for unique items and rewards. If players wish to change their Affiliation, the option is free during the Season's first week.

Four NBA 2K23 MyCareer Affiliations are available, and their locations are literally in their names:

• North Side Knights
• Beasts of the East
• Western Wildcats
• Sout City Vipers

How to Change Affiliation in NBA 2K23?

Here's a step-by-step to changing your NBA 2K23 MyCareer affiliation:

1). To change your Affiliation, you'll need to go to your preferred team, Stronghold. That's because you can't transfer your Affiliation to the current one.

2). To reach there, you can always take the Subway or just grab your Skateboard. However, we recommend you take the Subway because the transfer Affiliation option is located beside the exit/entry of the gate.

3). Once you reach your preferable Stronghold by Subway, look for a sign which says Transfer here.

4). As soon as you see it, go ahead and interact with the sign by pressing X on PS & A on Xbox.

5). After that, a window will appear with all the teams you can join.

6). Choices include North Side Knights, Beats of the East, Western Wildcats, and South City Vipers.

7). Make the right decision, click the Submit Transfer Request option, and that'll do the rest.

8). Also, note that you can only transfer once in the first week of the Season without penalties.

Why Change Affiliation in NBA 2K23?

Switching Affiliations can prove to be worthwhile. For one, if your new Affiliation ends up being the winner of Rival Day Conquest events, you will earn VC and cosmetics at no cost. Rewards can be gained daily by heading to your Affiliation's mascot statue in The Block at the center of the map. After interacting with the statue, it will gift you additional VC, XP boosts, or discounts on particular gear.

How many times can you change affiliations in MyCareer?

Remember that you can change affiliations on the fly during your MyCareer journey. However, a few restrictions are in place to stop you from changing affiliations too often. Last year's NBA 2K22 only allowed you to change affiliation once in the first week of a season. Changing affiliations afterward came with a penalty that kept on stacking.

We're not yet out of Week 1 of Season 1, so we can't confirm the impacts in NBA 2K23, but so far, you seem to be allowed multiple changes this opening week. However, once Season 1 is fully underway, that option may go away or include a significant cost for a mid-Season change.

This is all you need to know about how to change & transfer MyCareer Affiliation in NBA 2K23. And be sure to check out all of our NBA 2K23-related content—such as how to buy NBA 2K23 MT—plus even more.